'I believe love will win over hate'
Wednesday 23 January 2019 16:00 
A restaurant owner is refusing to remove an anti-Brexit message from his eatery's receipts after receiving death threats from Leave voters.
Restaurant owner Ibrahim Dogus, who last week added a Remain-supporting message to receipts from his London restaurant, said he and his staff have received abusive phone calls. Negative reviews of his restaurant have also been posted online.
Dogus tells The Independent: "We have been targeted by far right groups who are organised on social media and [it seems like they have been] encouraging each other to attack our business by leaving fake reviews on TripAdvisor, Google Business, and Facebook."
The message printed at the bottom of receipts printed at Dogus' restaurant, Westminster Kitchen, reads: "Brexit is bad. Immigrants make Britain great. They also cooked and served your food today."
The missive also appear on receipts at the restaurateur's other two locations in London.
However, Dogus says he has no plans to remove the message in light of the death threats and abuse.
"The message will stay on the bills until 1 February and then we will replace [it] with a different message," he says.
"I believe love will win over hate and those who are trying to disguise their racism as political activism are once again caught out."
The owner describes his restaurant as being "very popular with politicians" given its proximity to Parliament.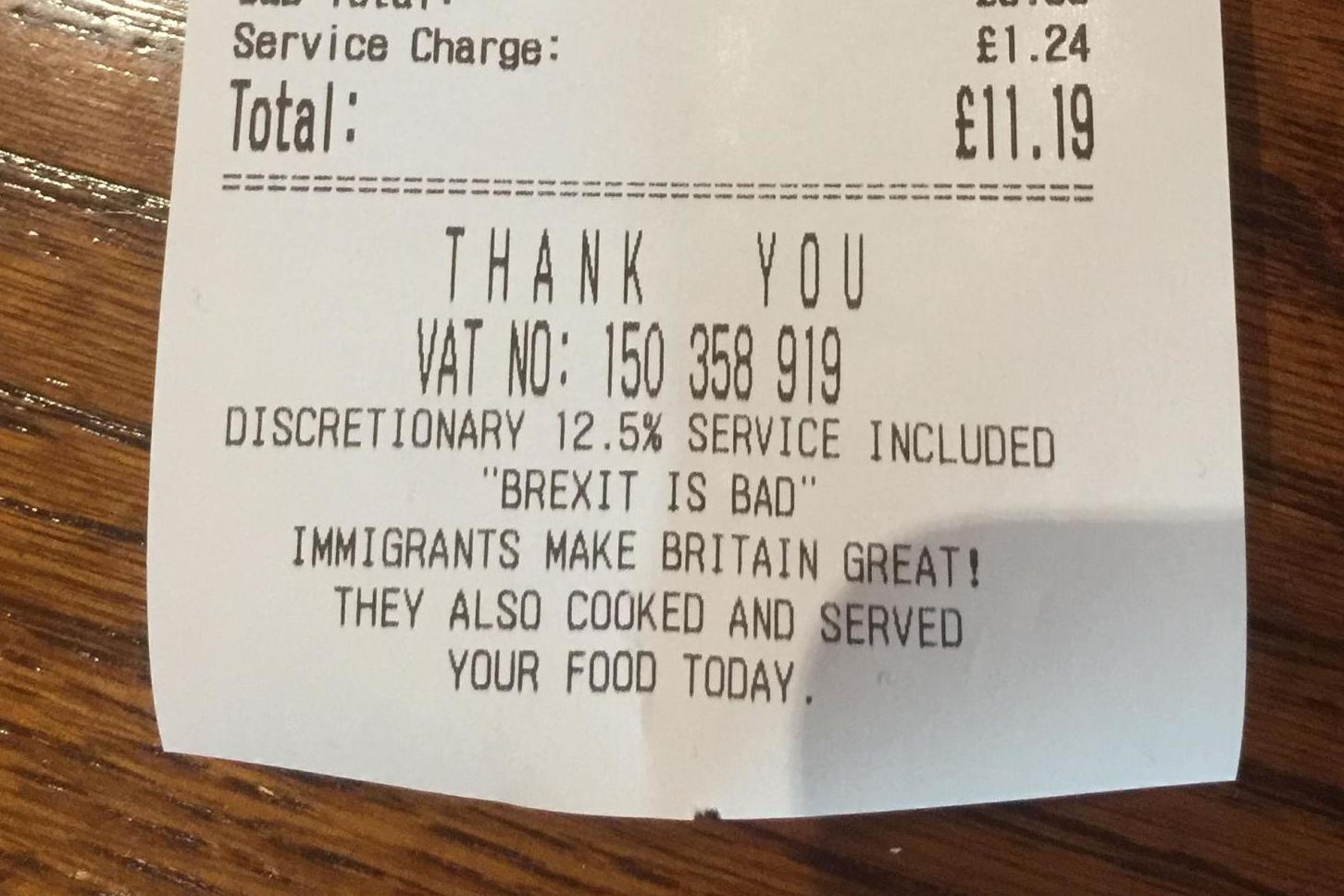 However, since the restaurant published the anti-Brexit missive on its bills, he says his "employees have been worried about threats of violence and abuse".
"It has been a horrible few days and our staff feel worried about what's happening."
Dogus also says that several customers have tried to book a table at Westminster Kitchen under the name of far-right activist Tommy Robinson, adding they used "abusive language".
On Sunday, Robinson posted a photograph of one of the restaurant's receipts taken by a customer on Facebook.
"Why are they bringing politics into their food business?" he wrote.
"I do hope that 52 per cent of their customers decide to no longer give them their business," he added, referring to the percentage of UK voters who voted to leave the European Union.
As a result of the ongoing death threats and abuse, Dogus said he has been forced to contact the Metropolitan Police in order to ensure his premises and staff aren't in danger.
"Our manager, Maliq Konjuhi, said that he is worried that someone will come and physically attack our premises," he adds.
The Independent has contact the London Metropolitan Police for comment.