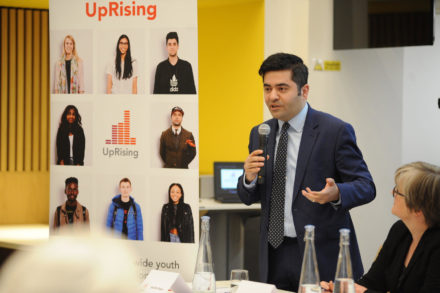 It's not just ministers and city mayors who are responsible for delivering good workplaces with decent pay – that duty falls fair and square on business men and women too. It is why I set up the Centre for Turkey Studies (CEFTUS), the organisation behind the British Kebab Awards, as a London living wage employer.
I am now pleased and proud to report that my new initiative, a community newspaper devoted to one of the capital's most vibrant boroughs, has just been officially recognised as a payer of this vital benchmark for wages. Lambeth Life newspaper, the free publication I established to highlight the success stories in my borough, has been accredited as a London living wage employer.
I was determined to make this happen. We are a start-up paper with just seven issues behind us so far but we wanted to make a signal of our commitment to fairness right from the start. We work with a small team of dedicated journalists – some employed, some freelance – and need them to be rooted in Lambeth. That means paying them an hourly wage that allows them to live in the community that they are covering every day.
It's not easy to raise the funds to pay the London living wage alongside the other huge increases to the cost of running a business or social enterprise, but I am proud to have achieved this milestone for all directly employed staff and contracted workers. And, yes, I'm talking about the real living wage with a London weighting – not George Osborne's lower national living wage, which many people on low pay perceived as a con. For the rest of the UK, Jeremy Corbyn has pledged to bring in a real living wage of £10 by 2020.
I am delighted to be able to commit to the London Living Wage at CEFTUS and Lambeth Life newspaper now, after publishing magazines and local community newspapers for Kurdish, Turkish and Turkish Cypriot communities in North London over the last seven years. I have never forgotten how hard work and having a job helped me when I arrived in Britain as the son of Kurdish refugees from Turkey.
Today people may have heard of me because of the British Kebab Awards or my three restaurants – Troia, Westminster Kitchen and Cucina – but I started out washing dishes and waiting tables in London in the 1990s. I know what it is like to count up wages and tips at the end of a shift, then see if it is enough to live on. I was fortunate in those days and, thanks to the help of friends and family, I was able to go on to open my first business at the age of 24.
Troia restaurant was in Bishop's ward in Vauxhall and opened in 2004. 14 years ago the restaurant trade was difficult and demanding, and it is no different now. Factors ranging from Brexit to business rates – both mishandled by the Tories – mean the cost of running a small business keeps going up.
I am keenly aware that not all SMEs can afford to pay the living wage to all their staff right now. The restaurant trade has narrow margins and the hike in business rates and higher food prices post-referendum have made things even more difficult. As the industry works towards that essential and honourable goal of a living wage, we have continued to host various charitable events for great causes – from the Jo Cox Foundation and the Durham Miners' Gala to fundraisers for local Labour parties and parliamentary candidates in key seats – at discounted rates or for free.
Having stepped down as a director of the restaurants, I will now concentrate on running social enterprises as I devote myself to giving young people the same chances that I had when I arrived in the capital. As Sadiq Khan has said: "Paying the London living wage is not only the action of a responsible organisation, but a successful one too." Nobody who goes to work every day should endure the indignity of poverty.
Our Labour mayor has taken the London living wage beyond £10 for the first time and his approach is working. Already some 1,500 more of the capital's businesses are paying the rate under Sadiq – and I'm delighted to be one of those who are meeting the challenge at two social enterprises.
Ibrahim Dogus is a Lambeth councillor, an entrepreneur, chair of SME4Labour and was a PPC in 2017.