Our recent coverage of the prevalence of fast food in England provoked some fascinating responses from readers and contributors alike
Fri 4 Aug 2017 08.00 BSTLast modified on Mon 13 Aug 2018 12.41 BST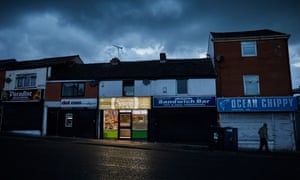 Our recent Fast Food UK series looked at the growing prevalence of fast food in England, notably in more deprived areas. Patrick Butler reported on new data highlighting the rapid growth of fast food outlets: a net increase of 4,000 shops over the past three years, according to Cambridge University researchers. Our interactive map allowed readers to find out how many takeaways were available near their own home, while Sophie Dishman visited Blackburn, England's takeaway capital, where price wars have led to deals of chips and a burger for a pound.
Writing in response, columnist Barbara Ellen called for the term "fast food" to be retired:
"It matters because the term fast food hints at a lazy, feckless attitude – people who just can't be bothered to source or prepare their own food, or even wait for it: people who don't care what they put into their bodies, or their children's bodies, so long as it can be done briskly.
Fast food denotes automatic judgment and stereotyping of the consumers – it becomes their fault for choosing fast over quality. By contrast, cheap food tells a fuller (fairer) story and one that at least acknowledges a harsh economic truth – this type of food (fast, junk, but above all cheap) could be all that broke, harassed people can afford."
Reader Phil Hearse from Ramsbottom highlighted the role that both time and availability play in food choices:
"Being time-poor is as much a factor as being cash-poor. People working long hours – a huge proportion of the workforce – often just don't have time to cook, especially if they have a family to feed. Until last year I worked at an inner London sixth-form college. The privatised canteen was a disgrace, with poor food, high prices and few choices for the large number of Muslim students. The net result was that many students routinely eating at the epidemic of local chicken shops, which the efforts of the local authority (Waltham Forest) have failed to stem.
Fighting fast food obesity means combating the low-wage, long-hours economy and providing decent food for students of all ages at subsidised prices. All highly unlikely under the present political regime."
One reader in Cricklewood questioned why low-quality fast food is accepted:
"As an immigrant originally from Italy, where fresh, top quality ingredients are the norm everywhere, the food around here is life-crushingly unacceptable. You are tacitly taking for granted that fast food must be of poor quality. But it doesn't have to be."
Below the line, commenter Moo1234's response was representative of a common theme:
So? Nobody makes anyone eat this stuff do they? It's still far, far cheaper to cook from scratch anyway.
Typical Guardian article promoting governmental interference in the poor 'uneducated' masses lives because the little people don't know any better and they do.
OK, so obesity costs the NHS a lot of money. But if these people didn't die at 65 from overeating, they'd be costing even more money in state pensions and benefits, dementia care and late-life illness.
While liberalquilt was one of many to point out the role that schools could play in reducing our national consumption of high-calorie food:
liberalquilt28 July 2017 10:15am
It won't change until cooking becomes a significant part of the school curriculum – say an hour or two a week in primary school and a compulsory GCSE subject in secondary school.
Niko Kommenda, who created our interactive map, broke down the numbers to produce a revealing statistic:
"The more deprived half of England has a total of 32,991 takeaways in their respective local authorities while the more affluent half has 22,674, which means the number is 45% higher on the more deprived side. In other words, for every 100 takeaways in the more affluent half of England, there are 145 outlets in the more deprived half."
Nazia Shaheen looked at the correlation between deprivation and fast food:
"The study found that of the 30 council areas where takeaways are the predominant kind of food outlet, 25 are in economically deprived areas of the north, with notable clusters in the north-west. This clear correlation between deprivation and fast food again raises questions of causation. In my experience, stressed individuals and parents, who are both time- and income-poor, turn to fast food at times where life has become too much.
Research has found that the diets of low-income groups are linked to economies of scale and fear of potential waste. Low income pushes people into less healthy and cheaper diets. The causal link goes the other way too – academic studies have also stressed the effect of a concentration of fast food outlets as well as the poor availability of fresh produce as key factors in determining diet."
Phil Thane from Bedfordshire said the problem wasn't limited to urban areas:
"There is a problem in small towns too. Greengrocery has small margins and property prices are high, so the shops close. For much the same reason convenience stores cannot afford to devote shelf space to cheap vegetables; ready meals and prepared fruit or vegetables have higher margins and pay their way. In my pleasant, mostly middle-class little town it is almost impossible to buy a cabbage."
About 70% of respondents to our survey said they supported a cap on the number of fast food outlets per area, including Lisa from Croydon:
"What is most alarming is that these outlets are purposely built near schools thus making it really difficult (read impossible) for the young kids to avoid this type of food once they reach the age of walking to school without supervision. Every day, I see children and youngsters eating fast food on their way from school to home."
Catherine Laz in Friern Barnet said the existing ban on takeaways near schools was ineffectual:
"The ban on outlets within 400 metres of schools is a joke. We get dozens of school children congregating around those fast food outlets for hours after school, because that's where they take the bus back home.So these places shouldn't be allowed at bus stops where school kids are in great numbers. Or they should open well after school hours."
Ibrahim Dogus, chair of the British Takeaway Campaign, argued outlets were already making efforts to offer healthier food:
"Research commissioned by Just Eat for the British Takeaway Campaign, published in the recent Takeaway Economy Report, shows that the takeaway industry is already responding to our increasingly health-conscious appetites, offering a greater range of menu options: 96% of restaurants offer vegetarian dishes, almost two-thirds offer low-fat choices, and 59% offer low-salt alternatives on their menus. Smaller portion sizes also clearly have a role to play in decisions around a balanced diet, and these are now offered in 73% of takeaway restaurants.
Your article also does not highlight the important contribution a growing takeaway sector makes to local economies and employment across the UK. Takeaways support over 230,000 jobs – 41,000 more than in 2009 – and helped contribute £9.4bn to the UK economy last year."
While commenter ID1121314 highlighted the link between eating habits and a national housing crisis:
To anyone commenting that poor people should learn to cook – please bear in mind that we have a full blown housing crisis, with many individuals and families stuck in temporary accommodation/hostels with either no cooking facilities at all or where the shared kitchen is too unsanitary to use.
Follow the Guardian's Inequality Project on Twitter here, or email us at [email protected]