Ibrahim Dogus
Labour has in the past been tacitly and even directly accused of being inherently anti-business. The party has been accused of being out of touch with the communities of modern Britain. Both suggestions are patently false. But these suggestions are sadly widespread. And they were, I believe, partly what prompted people's surprised reactions when we founded SME for Labour. These perceptions are something the Labour Party can and should work against – and there is no better time than this week with the Budget due on Wednesday.
I am myself an owner of a small business. I am also a proud Labour member. And I see nothing incompatible there, in fact, to me it seems like a natural combination. I started work at 14 and have slowly built up a modest business empire through hard work and an approach based on fairness and trust. After years of hard work, I now run several restaurants and have just launched my own beer, called Bira.
Throughout my life, I have seen the importance of SMEs to communities. I have seen that they are an integral component of any living, breathing community. I have also seen that social justice, or a lack of it, affects the health of communities, and vice versa. A just society needs SMEs and SMEs need a just society. For me, it is with the philosophy of the Labour movement that we can make the sort of society that I believe all of us deep down want to see and live in.
Labour's entire political programme relies on a prosperous, growing economy. We want social justice. We want opportunities for all. We want social mobility. We want world-class public services, in health, education, criminal justice and transport. And we understand that these things cannot happen unless we have a growing economy, fair distribution of wealth between the nations and regions of the UK, and investment in training, skills and jobs. Labour is the party for all of those who want to be better off, who want to see their families and communities do well and prosper.
SMEs are the glue that holds communities together. They give character to our cities, towns and villages. Without them, every high street would be a clone of every other high street, and we would have lost something very special that makes us who we are. Family businesses sometimes stretching back over a century provide us with a reference point for sustainable, ethical business practices, and give continuity to communities. More and more we see our society as one where people stay at home, locked indoors, where people do not know their neighbours and do not feel engaged. Labour is the party that can reverse this.
Healthy communities are not ones obsessed with the past, however. Real communities are ones that grow and develop, ones that acknowledge their past and draw on it but allow the following generations to express themselves. Driving the growth of SMEs and the health of our economy are innovators and entrepreneurs, people who take risks, people who think differently. We can and should support people with new, bright ideas to contribute to our economy. The current government stands in the way of the growth of small businesses, choosing instead to prioritise massive multi-nationals that do not contribute anything substantive to their communities, who exploit and cut corners wherever possible.
With the ongoing uncertainty over Brexit, sadly, we need the contribution of SMEs more than ever. SMEs employ over 15 million people, or two-thirds of all jobs in the private sector. The government's continued inability to deliver any clear strategy on Brexit is wreaking havoc on our economy and we have no idea what Brexit, when it comes, will bring.
Some are predicting growth, others further downturn. Whatever happens, we need to be supporting our SMEs so that they remain robust and dynamic. Labour is the natural friend of SMEs but the links could be stronger and more formal. This is part of what we are trying to do. The Small Business Saturday events, started by Labour a few years ago, gave Labour a chance to engage with SMEs in our constituencies. MPs, mayors and councillors had the chance to talk with the businesses in their patches. It is a wonderful initiative, and we give it our full support.
But I want this level of dialogue and engagement to be more than a single day. I want it all year round. I want it to be normal. I want our branch meetings to be stuffed full with small business men and women, with the self-employed, with entrepreneurs taking risks with exciting new ventures.
I want to see Labour MPs elected with a background in SMEs, in family- run firms, and in entrepreneurship. If Labour is truly to represent the communities we serve, then the PLP must reflect small businesses.
We've made an impressive start. SMEs for Labour has grown fast, reflecting the genuine interest within the party. We've won the endorsements of senior Labour figures, including our leader Jeremy Corbyn, the deputy leader Tom Watson, and the shadow chancellor John McDonnell. There is still more we can do, however, to build on the natural affinity between Labour and SMEs and to boost Labour's electability.
Ibrahim Dogus is chair of SME4Labour.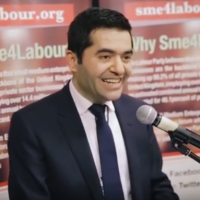 Ibrahim Dogus
Ibrahim Dogus is a Lambeth councillor and the current mayor of Lambeth. He is the founder of CEFTUS, SME4Labour and the British Kebab Awards.View all articles by Ibrahim Dogus